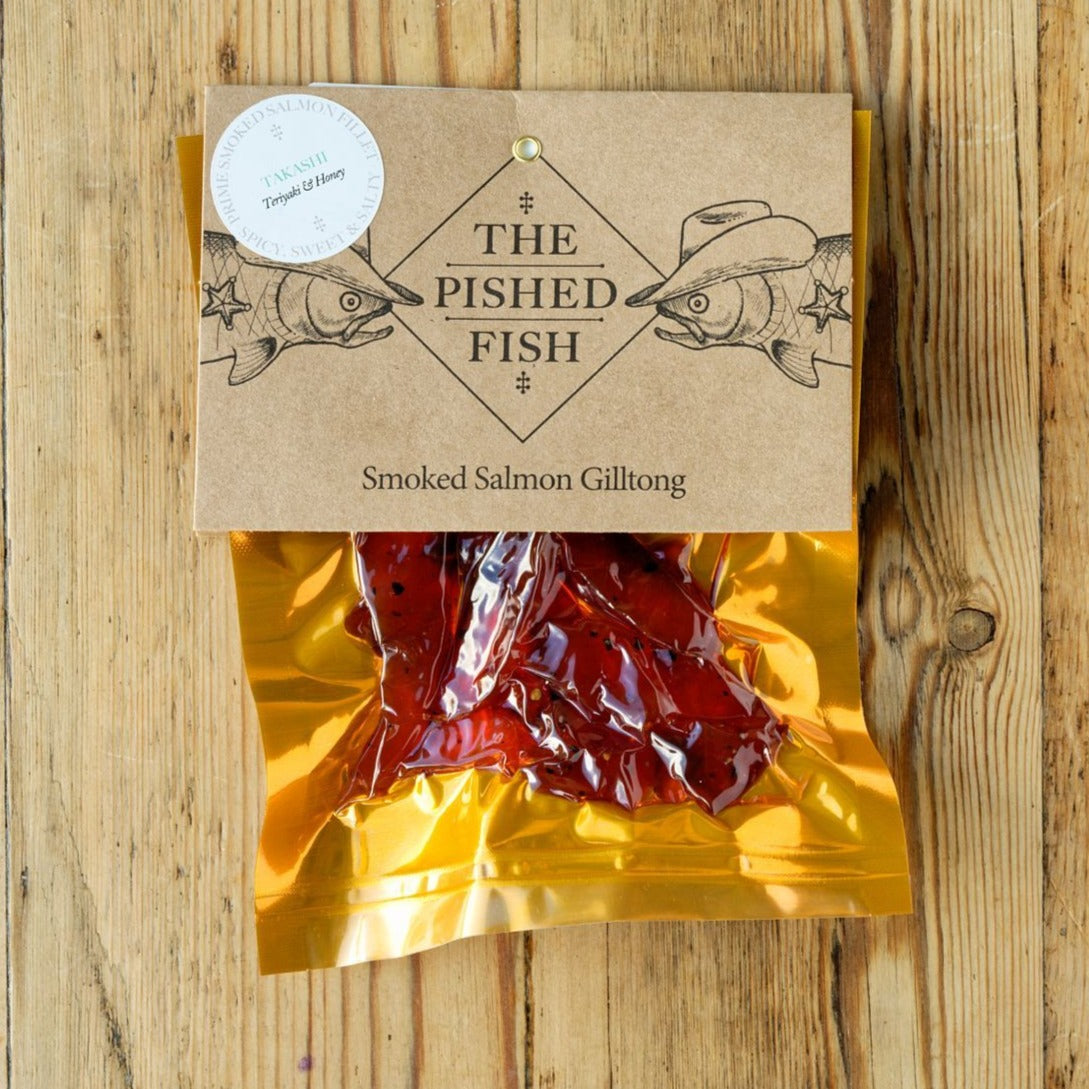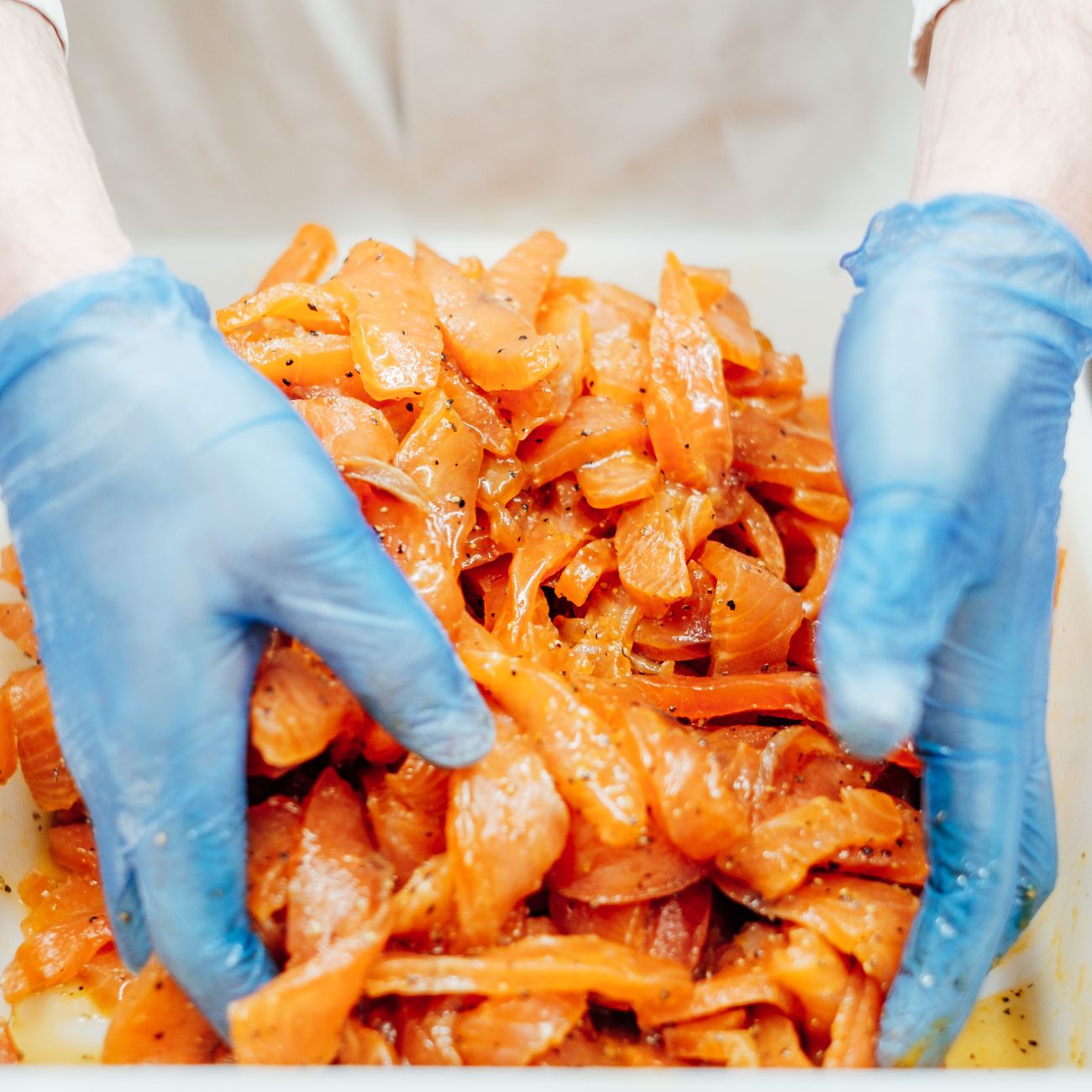 Teriyaki and Honey Gilltong
Sale price

£5.49
Regular price
(/)
✔️ FREE guaranteed chilled delivery with £75+ spend (otherwise £5.95)
Treat yourself to a delicious and moreish snack with our Teriyaki and Honey Giltong. Our smoked salmon jerky is marinated with honey, teriyaki, Tabasco, and black pepper for a spicy taste you won't be able to resist. Savour every bite and get ready for some serious enjoyment!
Sushi grade Scottish salmon

Medium oak smoke
Marinated in honey, teriyaki, Tabasco sauce and black pepper
Sweet, umami and just a little fiery! Perfect for snacking alongside a well poured pint or crisp Sauvignon.
"I got this because I was feeling adventurous, and looking for savoury, lunchy things. I was nervous, because I wasn't sure I would like the texture. Fish Jerky? Really? But, it was absolutely delicious! The teriyaki and honey works perfectly, and I am looking forward to getting more!" Laura A.
Ingredients: Atlantic salmon (FISH) salt, Demerara sugar, teriyaki sauce (Soybeans, wheat, sulphur dioxide), Tabasco, honey, black pepper.
Minimum 1 month shelf life on delivery. Suitable for freezing
You're probably asking what is Gilltong?! Well its our own little invention, half way between jerky and biltong, but made with smoked salmon - hence gilltong, get it now?!
We take our same prime fillets of smoked salmon, hand slice them thickly before marinating in teriyaki, honey, Tabasco sauce and black pepper.
After marinating we air dry until the slices are chewy, succulent and tender. In no way tough like beef jerky or biltong. It's sweet, salty, a little bit spicy and ever so addictive!
We don't think you've tried anything like this before.
Perfect for snacking. It contains no booze, but works rather wonderfully with pale ale, but you can choose your own tipple!
Chilled Delivery Guarantee
The Best Smoked Salmon you Have Ever Tasted - or your Money Back!
Satisfaction Guarantee

With the inability to give you a sample like we would at our market stall we offer a money back guarantee on any products you don't like! If you're a smoked salmon lover, and not afraid to try something a little different, we're sure you're our kind of customer. If you really don't like it we'll refund you in full. Can't say fairer than that!

Chilled Delivery Guarantee

With our no quibble guarantee we will refund or replace any products that don't arrive with you in perfect condition. 

Delivery

Please allow up to 3-5 business days for delivery at the moment as everything is being made fresh to order to keep up with demand (June 2022) We make our smoked salmon fresh each week. Most smaller pack sizes (100g and 200g) we hold some stock of and will despatch as quick as possible which is the same for our Taster and Gift packs. For larger sizes (half and whole sides) we will slice these in the week and deliver on the coming Friday (e.g order Tuesday morning, will be with you Friday) If you need it more quickly, please pop us an email (we're very friendly) and we'll do our best to get it out to you sooner, or offer the same weight in smaller pack sizes. If you're not sure, don't hesitate to email info@thepishedfish.com and if you have any special requirements or need to hold delivery until a later date, please state these in the notes section in the cart or at checkout.

Northern Ireland, Highlands and Islands

 

Please get in touch with us before ordering and we can advise on the best method for delivery to your area.

 

How does my smoked salmon get delivered?

Your order will be packaged in insulated packaging filled with ice packs which are tested to keep the products chilled for up to 48 hours. We use DPD to transport the products on an overnight service, so the product should always arrive chilled as though it had been in a fridge. The insulated packaging is either compostable, re-usable or recyclable. 

Do I need to be home when it is delivered?

If you're not home we ask the courier to leave the package either with a neighbour or in a safe place. It is always preferable to have someone around to sign for the delivery though, so an address where someone is available (home or work) would help.

How much does delivery cost?

Delivery free when you spend £75, or below that £5.95 and is applied at checkout, and is based on your cart total after any discounts.

Where is the salmon from?

We source our salmon through Billingsgate fish market, selecting only the freshest Scottish* salmon from farms with a focus on responsible farming. We use wild salmon by special order only, please sign up to our emails to hear when this is possible.

*Occasionally due to weather conditions Scottish salmon may not be available, in which case we use the best quality farmed Atlantic salmon available.

What is the use by date?

All our cold smoked salmon and trout is packaged with a minimum of 23 days shelf life. The only exception is our hot smoked salmon and paté which has a shorter use by date - 14 days. We will never send out any packs of smoked salmon with less than 5 days remaining on its use by date, or pâté with less than 3 days remaining.

Can you freeze it?

Yes, all our products are suitable for freezing. Please freeze on day of arrival.

I have a discount code - where do I use it?

There is a small box in the cart section where you review your order that asks for your discount code. Please enter it here and the discount will be automatically applied.

How much should I buy per person?

We recommend 50g per person as a portion. Really love smoked salmon? Double it!
We source our fresh Scottish farmed salmon via Billingsgate fish market. Wherever possible we choose RSPCA assured Scottish farms*, with key ambitions to follow responsible farming practices. 

The salmon is filleted and then slow cured in our unique blend of Dead Sea salt and demerara sugar. The slow cure firms up the fish and gives the salmon a more meaty texture. It is not greasy or slimy like some other smoked salmon.

We then smoke gently over complementary wood smokes. After smoking, the salmon is rested overnight before being sliced by hand in our little Sussex smokehouse. We choose to slice the salmon in thicker, vertical, more decadent slices. Once our customers have tried it this way they never go back!

*Sometimes this isn't always possible due to weather conditions etc, in which case we choose the next best alternatives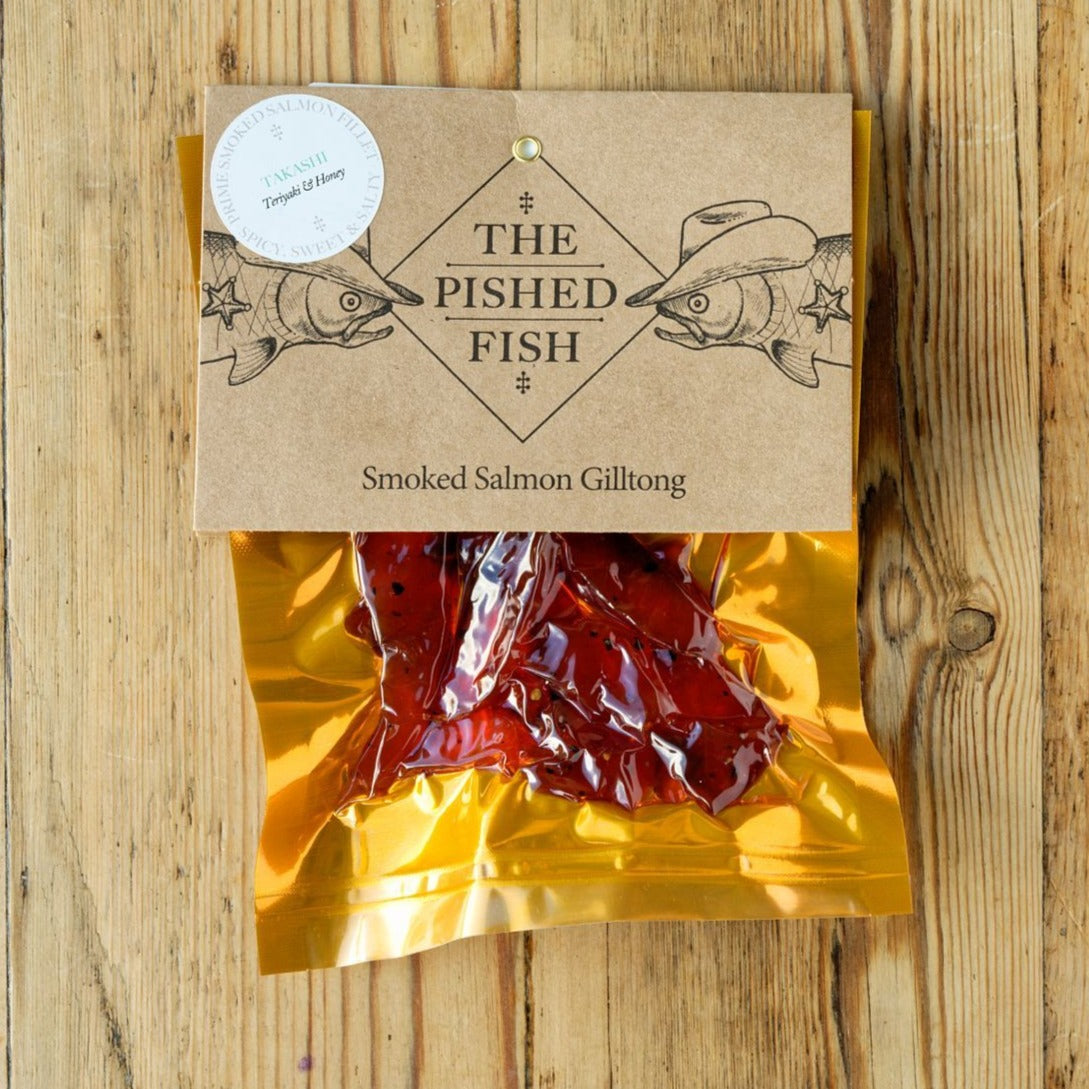 Teriyaki and Honey Gilltong
Sale price

£5.49
Regular price
Choose options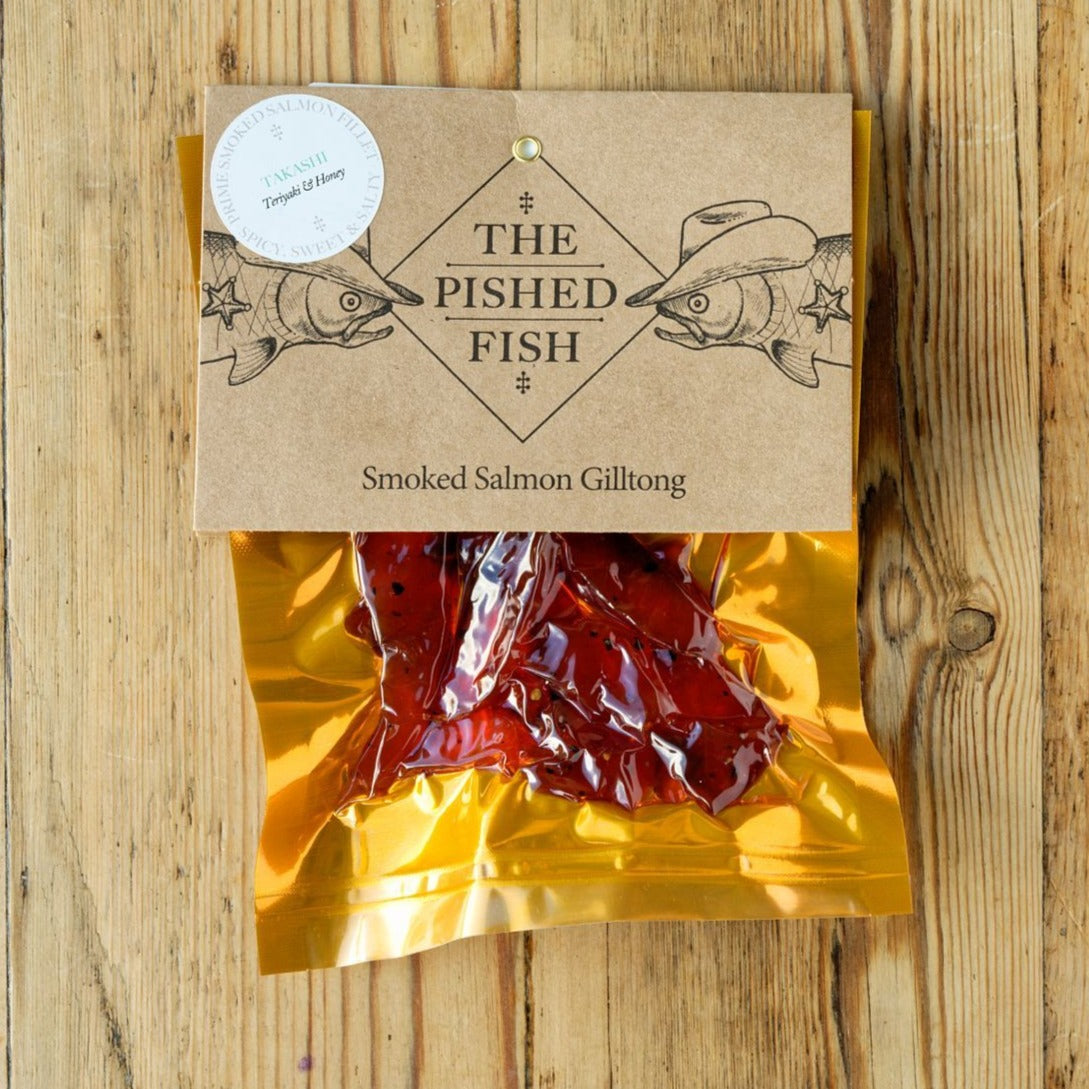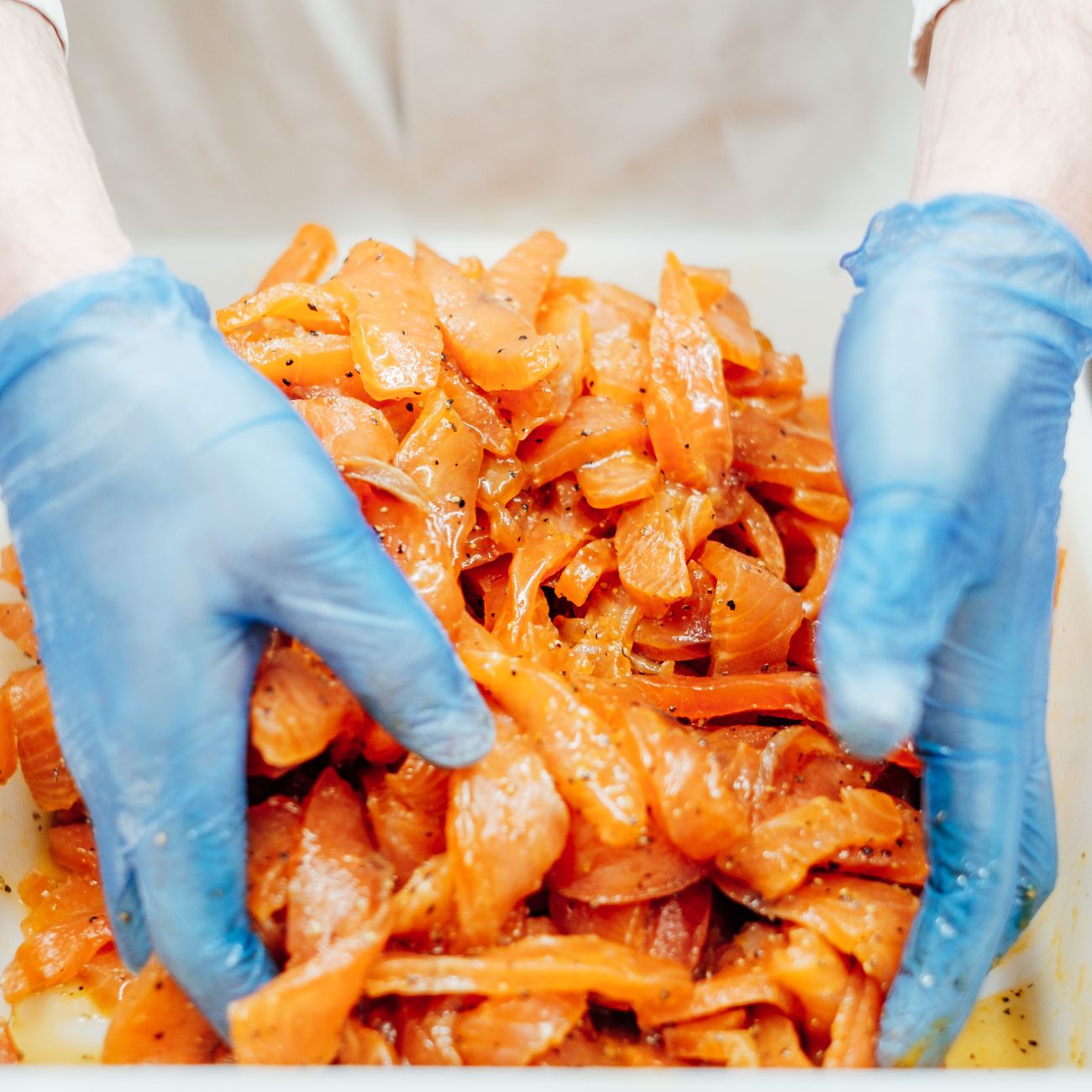 Fabulous mix of flavours, works perfectly.
I love this. It's a fabulous treat and very low carb too. I'm a Type 1 diabetic and there is no spike in my sugar levels. So for me it's a perfect snack and what's more it's delicious.
Very tasty for a pre supper snack
Two of us really enjoyed this tasty snack.....just as well there isn't too much in the packet!
Assuming it is wonderful.
Given away again…still haven't tasted it.
Thanks for getting others hooked Fiona, when are we going to get you converted?!
Great products…as usual!
I actually think I'm addicted to the Teriyaki and Honey Gilltong. Love the sweet, salty, spicy taste. never disappoints!
Great to have you hooked, watch this space for a new flavour launching soon!
Fabulous!!
This is the most delicious treat anyone could ever want! You can just eat it straight from the pack, in fact there's no chance of it going back in the fridge…..too yummy
Thanks Sue, can be pretty addictive! Watch this space for a new flavour coming soon!