Whisky Distillery Tour - The Pulteney Distillery
When choosing a single malt scotch whisky with which to cure our smoked salmon, we like to try out different options. 
It would be very easy to just use the same whisky each week, but where's the fun in that?! We took a trip to Scotland for several reasons, one of which was to go and see how single malt Scotch whisky is made, and where better to do our whisky distillery tour than one of the most northerly distilleries - The Pulteney Distillery in Wick.
We had arrived in Inverness the afternoon before and after settling into our lodgings we went out exploring this fine city. Following the recommendations of fellow Easyjet passengers, we headed for a stroll along the mighty river Ness followed by a few pints in some pubs and bars.
#publife
Dinner was unimaginative, a distinct lack of Scottish smoked salmon available, and so was burger and beer based, but helped to highlight the rest of the evening when we arrived at Hootananny. Some traditional music was on offer, with an incredible fiddler from Shetland (apparently renowned for their skills) and some good local beer.
We met a chap called Richard who had travelled from Aberdeen to come and see the duo on stage (I wish I could remember their name) and Jordan met some fellow Canadians which was of course very exciting. And very polite.
At £4 a shot for any whisky on the shelf it seemed wrong not to try as many as possible. "Laphroaig on the rocks please" was met with a shake of the head and arrived without said rocks. Turns out this is not how its done, I'm not American. First lesson learned. The second lesson was that Old Pulteney 20 year old, was one of the best single malts around. This was good news as we happened to be heading that way for our whisky distillery tour the following day. We worked our way along the whisky shelf, left to right, or right to left. Or back and forth. It became hazy and bed was welcome.
The drive north was of course stunning, and we were reminded of what a beautiful country Scotland is. The glorious sunshine helped keep the landscape feeling amicable, but the coastline was wild and rugged all the same.
I had booked our tour in advance and our host, Kathy, had remembered that my business back in London was booze infused smoked salmon and that I was here to learn more about how the whisky I use in the smoked salmon comes to be.
The distillery itself is one of the furthest north, certainly on the mainland, and being founded in 1826 has a rich history and heritage. One of the most notable being the distillery's mothballing as a result of prohibition during the temperance movement. The story goes that fishermen were getting so blotto that they'd end up gambling or exchanging their vessels for whisky! The good women of Scotland had had enough!
The process of distilling whisky is far too complicated for me to a) put in words here and b) remember but here are a few words and photos of our trip around.
This is the master computer for the distillery which reminded me of a 1970s sci-fi film. Some of the techniques and equipment used are from way before then though and still use an ancient mill to grind the malt.
The mash tun completes 19 mashes a week, with 5 tonnes of malt milled.
My favourite part of the tour, apart from the end tasting of course, was all the cool equipment used in making the distilled spirit. All the bronze, copper and miles of piping gave it a very steampunk feel.
The spirit arrives in the equipment above from the unique copper stills which the whisky bottles are fashioned after.
Whisky doesn't become whisky until its been matured in oak casks which have previously been used to house sherry or bourbon and may have had several different roles in their lives. Whisky is not officially whisky unless it does this for a minimum of 3 years, but of course it only really starts coming alive after 5 years entombed in these.
The smell when walking into the warehouse is incredible. Like walking through a chilly greenhouse full of flowering whisky plants. The smell comes from tiny amounts of evaporation from each barrel. There were thousands of them.
By this point our minds had been boggled by so much single malt Scotch whisky knowledge that we were ready for a dram.
Now I'm no whisky expert, although I am trying my hardest, but the two Old Pulteneys that we tried were rich, dry and sweet. I had heard that you can taste hints of the sea which I guess my uneducated palette didn't quite get, but I found hints of caramel and honey, especially in the 20 year old one that we tried. I normally prefer the peatier whiskies of the west coast, especially when making our smoked salmon, but this to me had hints of peat, or maybe that was the age, or perhaps it was the sea I could detect?!
Of course I couldn't leave empty handed, but something that Kathy offered us was the chance to hand pour a bottle of 15 year old Old Pulteney, wax seal, write the label and then record this in the visitors book which goes back to 1969. A lovely touch at the end of the tour.
I think the hand bottled one is probably one to save for the birth of children, weddings and important birthdays, although I know myself well enough to know that once that wax seal is broken…
I think the more aged Old Pulteney whisky is probably a little too good to use in smoked salmon, but we'll certainly be using a younger one with our Lord Lucas fillet in the future.
Thanks to Kathy for showing us round, being so informative and taking pictures when necessary!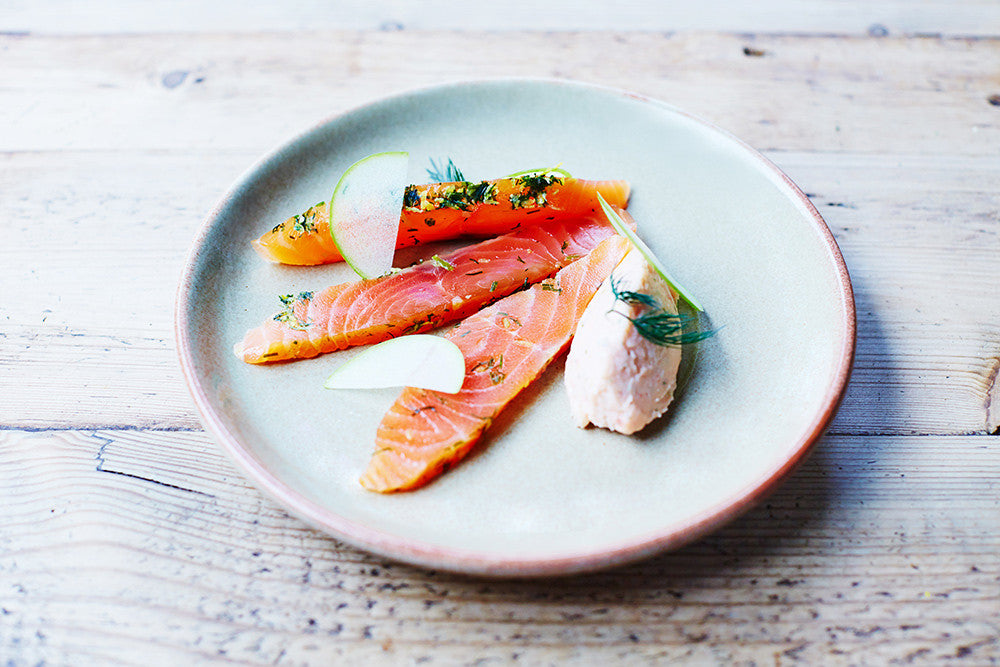 Aquavit? What in the blazes is that?
We use Linie aquavit to help cure one of our smoked salmon flavours. Appropriately called Erik the Red as it is also cured in beetroot which gives it a beautiful red tint. Erik the Red was banish...
Read more